We are prepared for future times, and so we spent last summer by renewing the façade, modernizing our interieur, and we also added some new parts to the building. Now the Landgasthof Löwen is ready to proudly present its restaurant, its guest rooms and its allover appearance.
We can offer guest rooms again
During the last months we therefore changed four rooms on the first floor, which we meanwhile had used privately, back into guest rooms. Architect Hans Gabele from Sauldorf gave us helpful advice and mediated companies.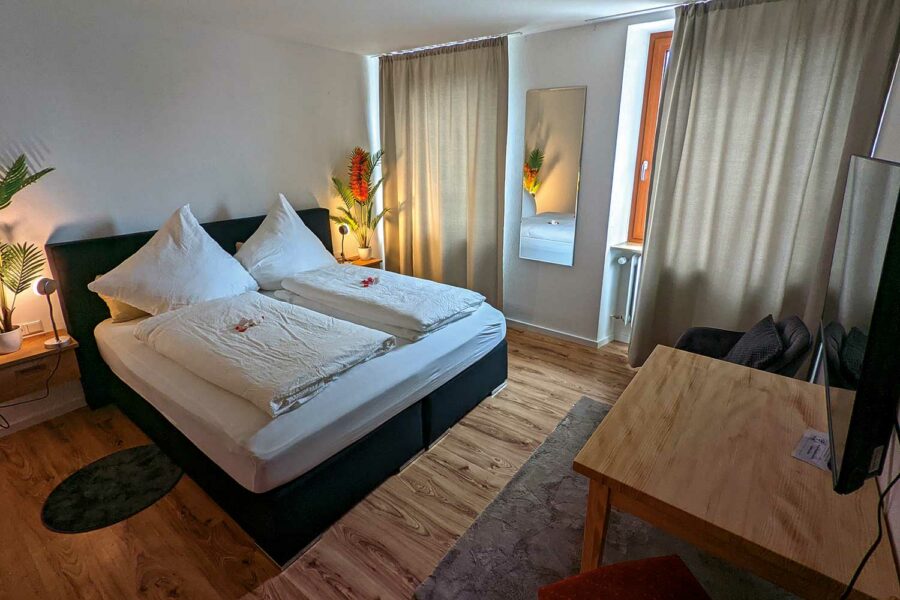 The guestrooms with a small touch of South Sea flair have been modernized and they are equipped with ensuite bathrooms. Optionally guests can receive a big and healthy breakfast, rich in vitamins.
The furniture in the guestrooms as well as the windows in the first floor have been installed by the joinery Burth from Rast. This also has improved the house's insulation.
On St. Laurence day, when innkeepers celebrate their patron, Fr. Notker Hiegl OSB from the archabbey of Beuron during a service has inaugurated the new rooms. We thank him very much for his blessings. We are looking forward to receiving our new guests.
Facade
Our building really did need a make-over. To carry out the restaurations, we have hired the coating specialist Geru from the city Römerstein. We have used friendly, welcoming, and light colors while at the same time emphasizing on the traditional look of a country inn.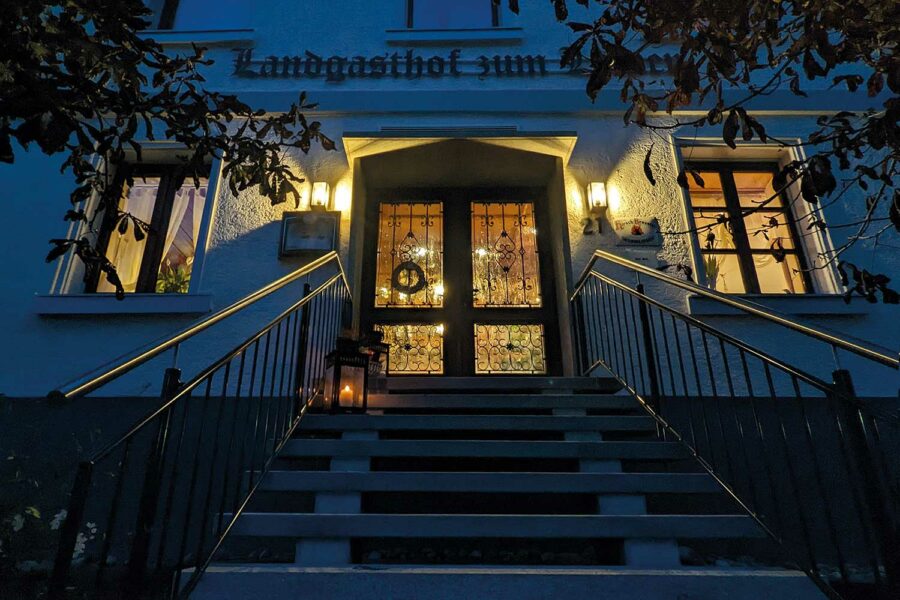 It was thus a matter of course to stick to an old German writing on our name plate in front of the house. And again you can see our family crest on the sunny side of the Löwen while sitting in our beer garden, not only as a painting on the wall like before but as a robust plate.
Where we actually did modernize The Löwen was by installing an outside lighting in order to create a special atmosphere around our country inn and also to render a special appearance to Rast itself.
A beautiful name plate sponsored by the Hirsch Brewery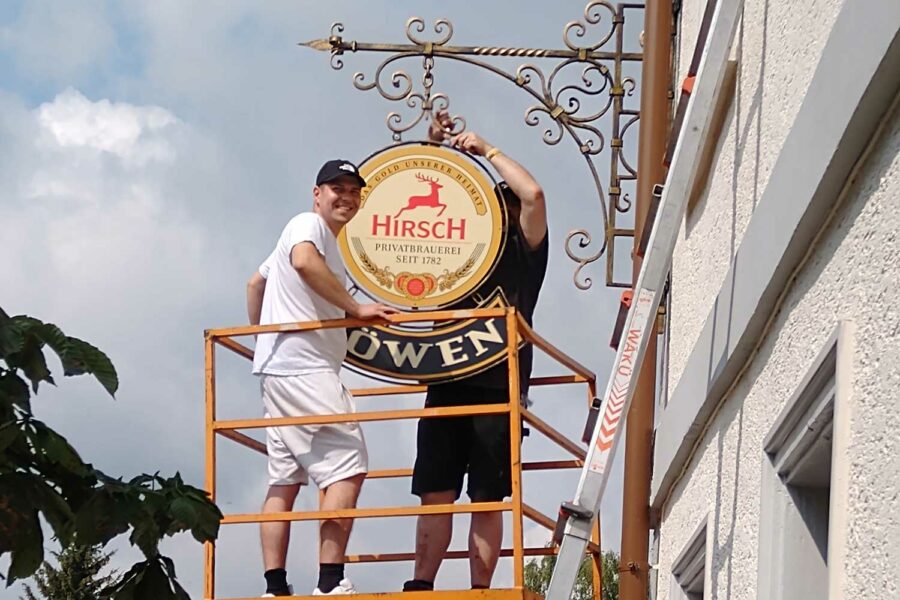 A good atmosphere in and around the Löwen is definitely also evoked by a special gift from the Hirsch brewery from Wrmlingen, a rod-iron name plate for The Löwen. We are very hapy about this beautiful peace of art craft, which so perfectly fits the style of our country inn.
Herrgottswinkel and Stammtisch stay in our tavern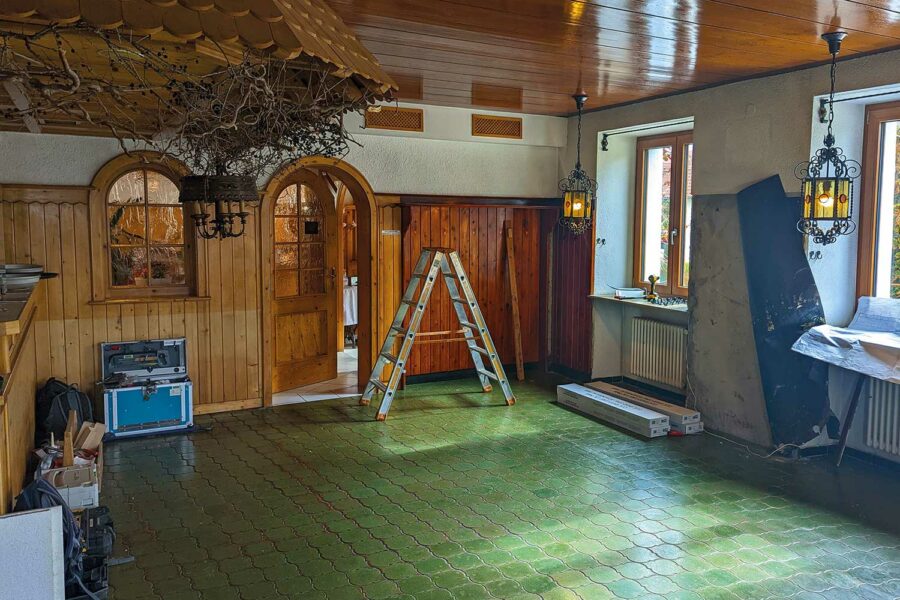 After our facade was done, in the beginning of October we started with the renovation of our traditional tavern. As so many of our guests we, too, like the atmosphere of those taverns, which over centuries have silently witnessed beautiful as well as sometimes also eerie moments.
But we wanted to make the interieur a little bit friendlier, and the craftsmen within a few days have rendered a refreshed look to our "stube", which is now waiting for its new guests and for new stories. This project was also supported by the Hirsch brewery, which provided us with its know how and send us their craftsmen for that occasion.
"Farewell and all the best to you, Uli!"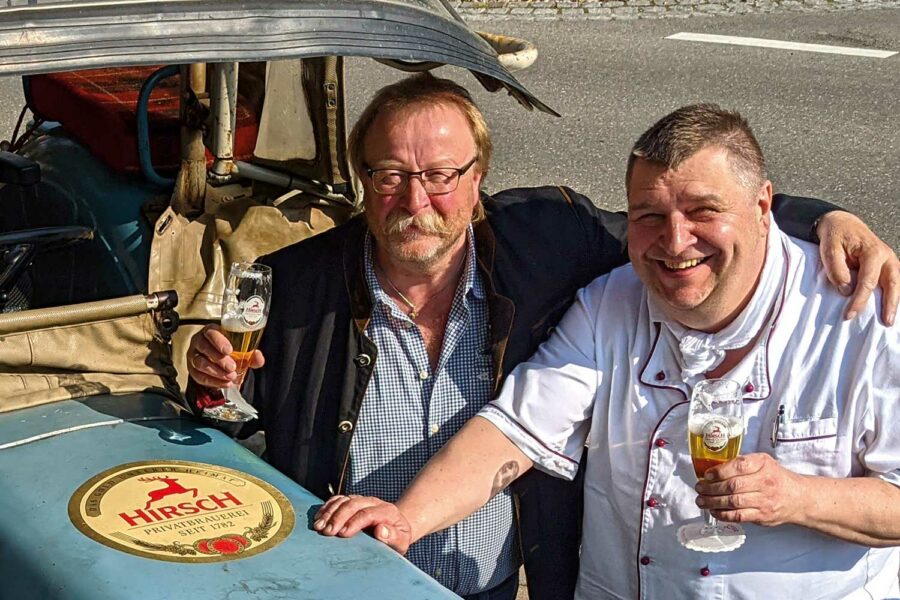 We have not fully realized this by now, but Uli Schray, the one in charge for the Hirsch brewery's organization of beverage delivery from the Danube to the Lake of Constance, has retired on October 1st 2022. The family Knoll therefore wants to say good-bye to our committed, helpful and engaged friend with the following words:
Dear Ulli, we thank you for your cheerfulness, your helpfulness, your "beery" generosity, for your sometimes a bit special humor, and for everything you have done for us and for our guests. In fact, and that is something not many know, this newspaper would no longer exist without you. Something that really characterizes you is that you are not only just sell beer, but that you always have an open ear for everyone, and that you show empathetic kindness to every person around you. For your further life we wish you all the best, and of course we hope that you will drop in for a visit once in a while.
Robust: Barrels from Hagnauer
When it comes to wine, the wine-maker association from the Lake of Constance is our first address. We appreciate the flavor as well as the atmosphere of Hagenauer's, where we organize excursions to in regular times.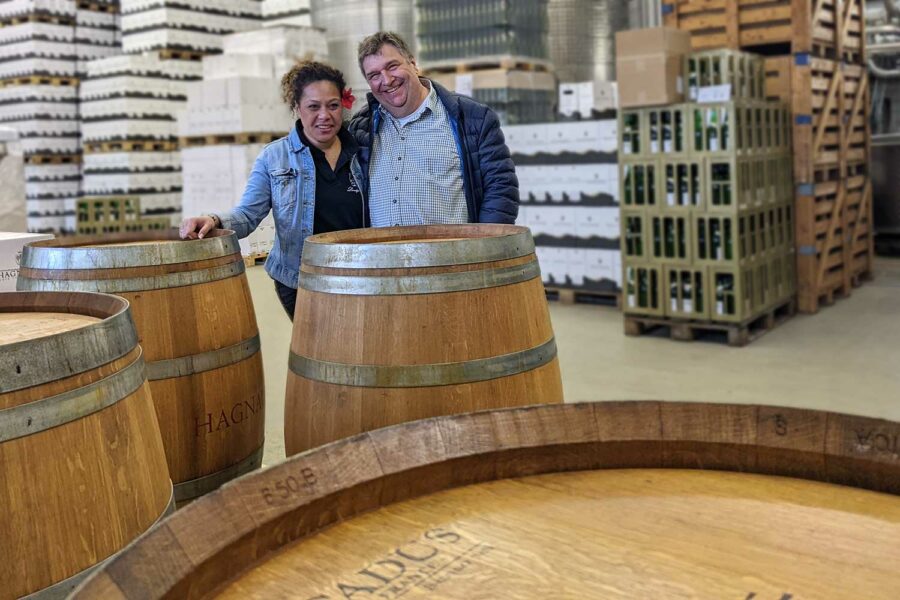 At one of our visits there we discovered some old barrels no longer usable for wine-making. Moana immediately had an idea for their usage in The Löwen, and after a short conversation we were allowed to take them with us.
In the coming year they will be a wonderful decoration for our beer garden, which of course is also a wine garden. In this case we can only say "Thank you very much!"